2023 Webfoot ISDE Enduro Race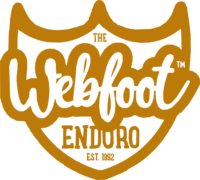 This event is a part of the NMA Enduro series competition, and is an ISDE-style event consisting of special tests along a marked route at Walker Valley.
Race format
You will be assigned a start minute before the race. You must start on your minute for each lap or you will be penalized. The key time for the race will be provided on the day of the race, to determine when you will need to start your next lap.
An ISDE-Style Enduro consists of "Transfer" and "Special Test" sections along a marked route. You are not scored on the "transfer" sections, so manage your physical output during this time. There will be "special test" sections with a clearly marked start and finish. You will be timed on the special test sections, and your test section times will be used to calculate your final score.
Additional information
Walker Valley is a public park, so please exercise caution as there may be non-racers on the course. Only the special tests are timed, so a normal trail pace is fine when you are not in a test. We do our best to strongly encourage non-racers to follow the course, especially for the test sections.
Our Enduro event consists of challenging trails and is not recommended if you are uncomfortable navigating rocks/roots/obstacles. Please contact us or a friend familiar with Walker Valley if you are unsure.
For more information on the NMA Enduro series, and the official rule book, see this link here: https://nmaoffroad.org/enduro-series/
Pre-Registration is not yet open.